Regular price
Sale price
$36.00 USD
Unit price
per
Sale
Sold out
A baby blue manicure that features floral blossom - sweet & unique. Matt top finish & shinny imprints bring the flowers to life.
Nail Set & Kit

Each set comes with 10 (regular set) or 20 (full set) handmade press-on nail tips and a nail prep kit.

Nail prep kit includes:

- alcohol wipe

- nail file

- nail buffer

- nail glue

- nail adhesive tab

- nail stick
Sizing Chart

We strongly recommend CUSTOM SIZE for a perfect fit. For details on sizing and/or measurement method, please refer to the size chart listing pictures on the left.

Standard Size:

XS: 3-6-5-7-9

S: 2-5-4-6-9

M: 1-5-4-6-8

L: 0-4-3-5-7

Custom: please leave your nail size in the note (Example: my sizes are 3-7-6-7-9)
Return Policy

Due to the natures of handcrafted items, returns and exchanges are not supported.
Share
View full details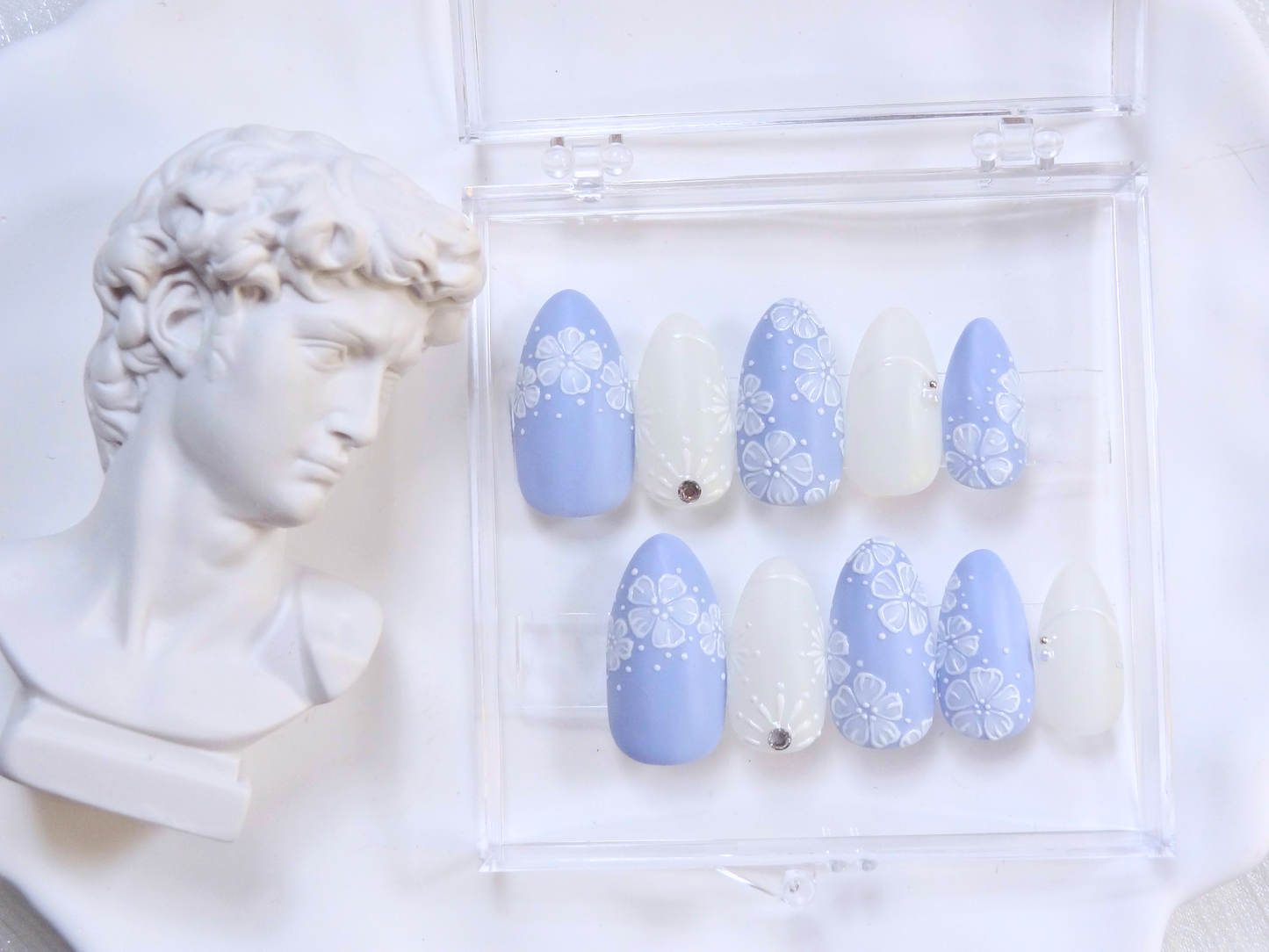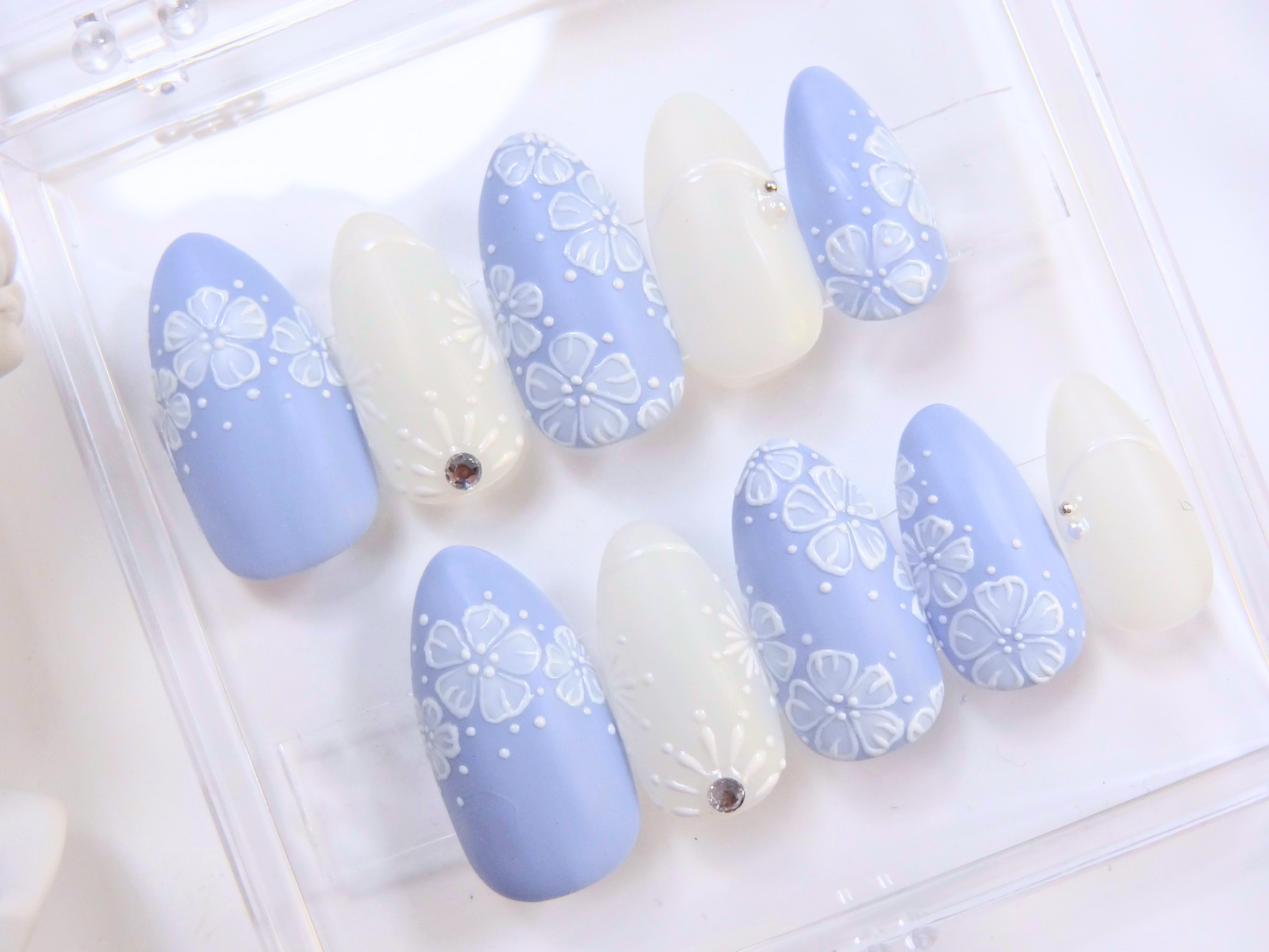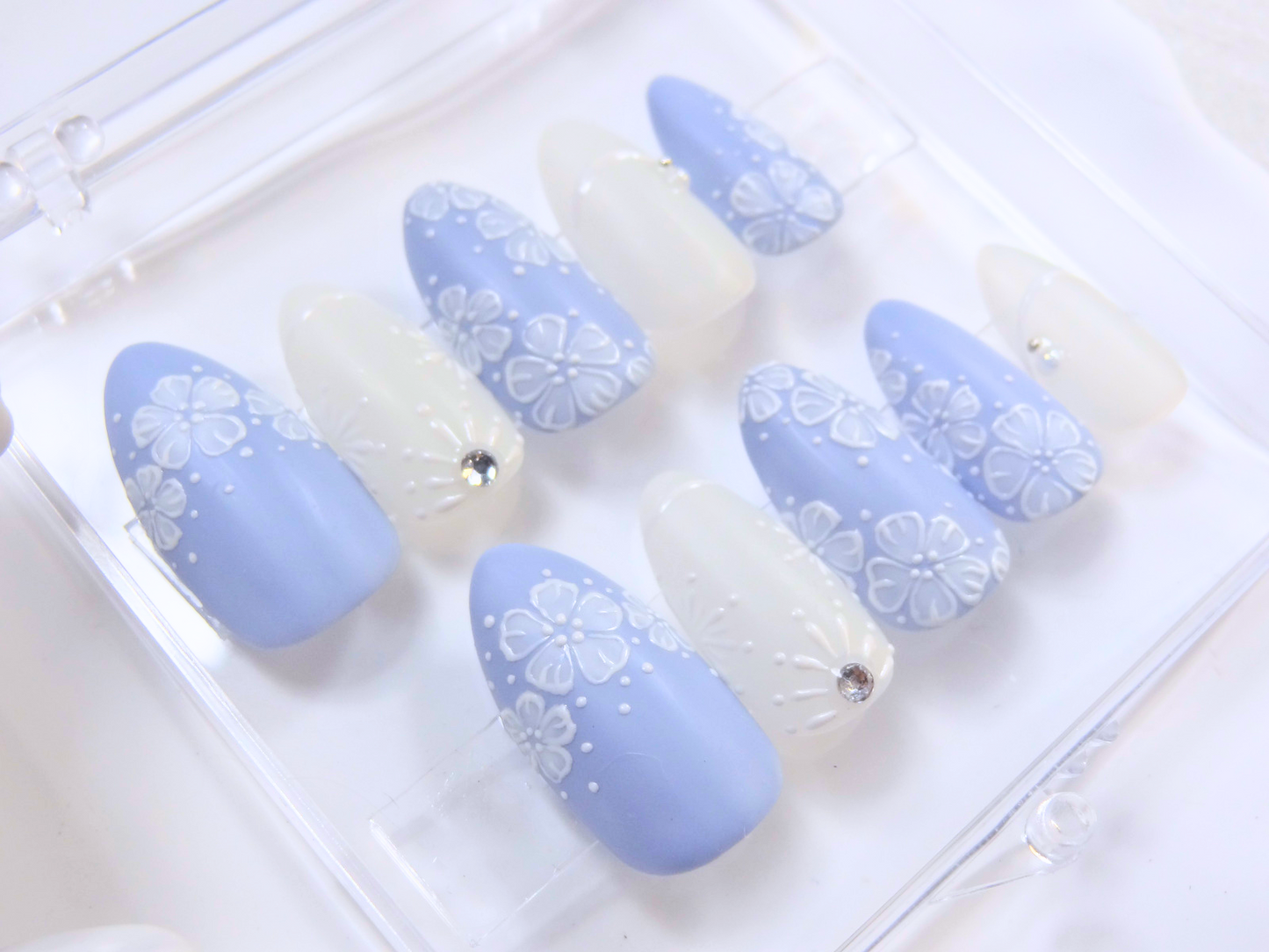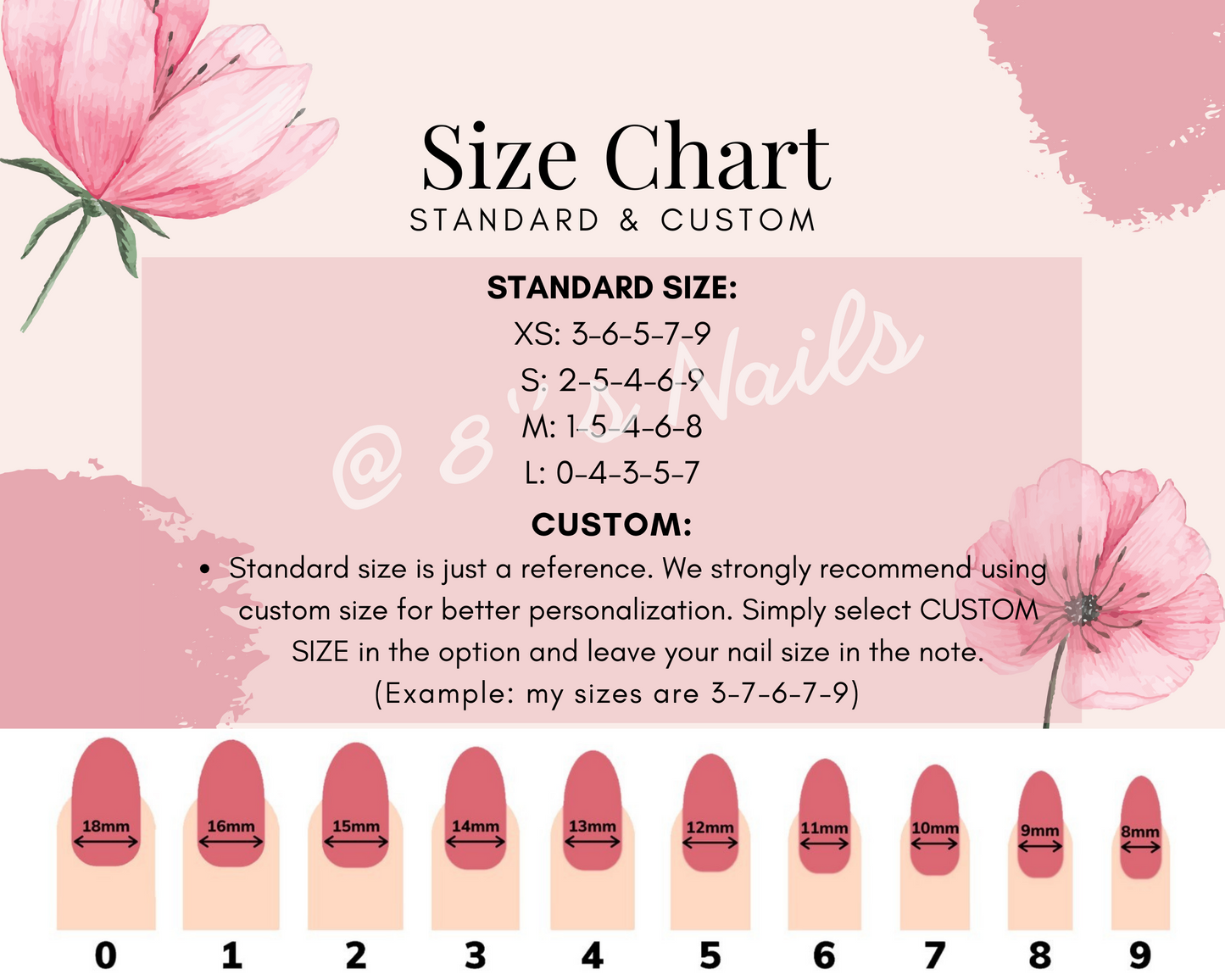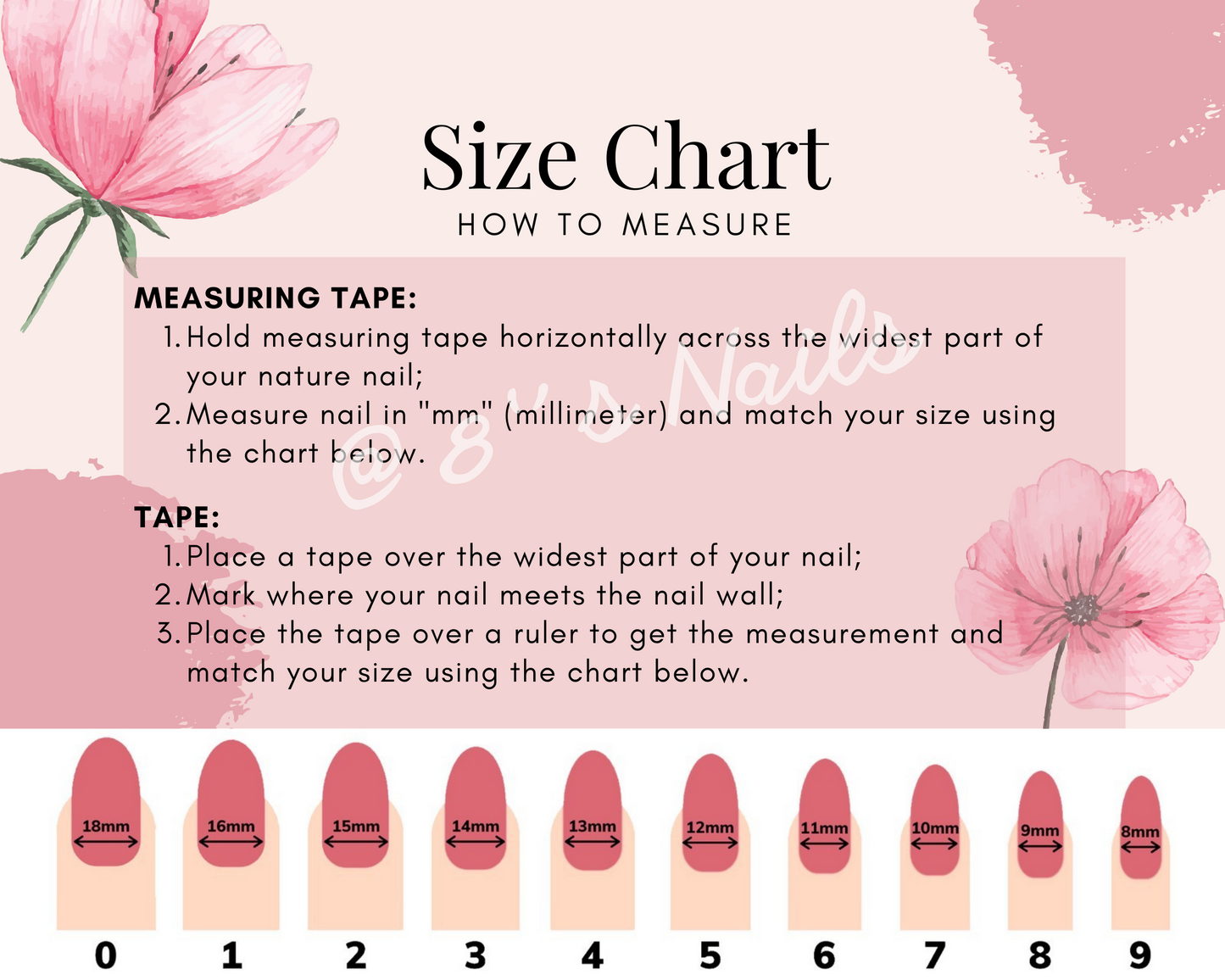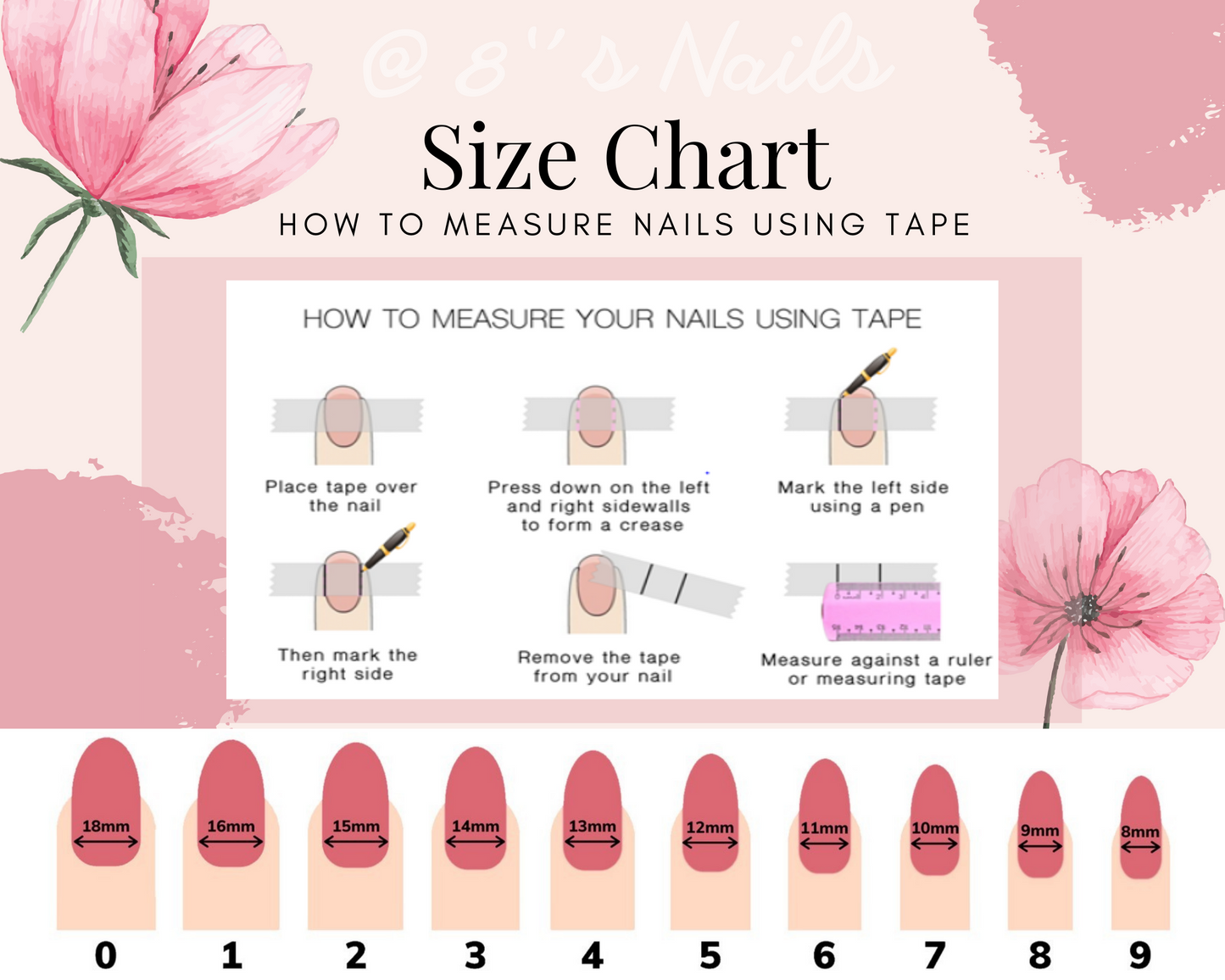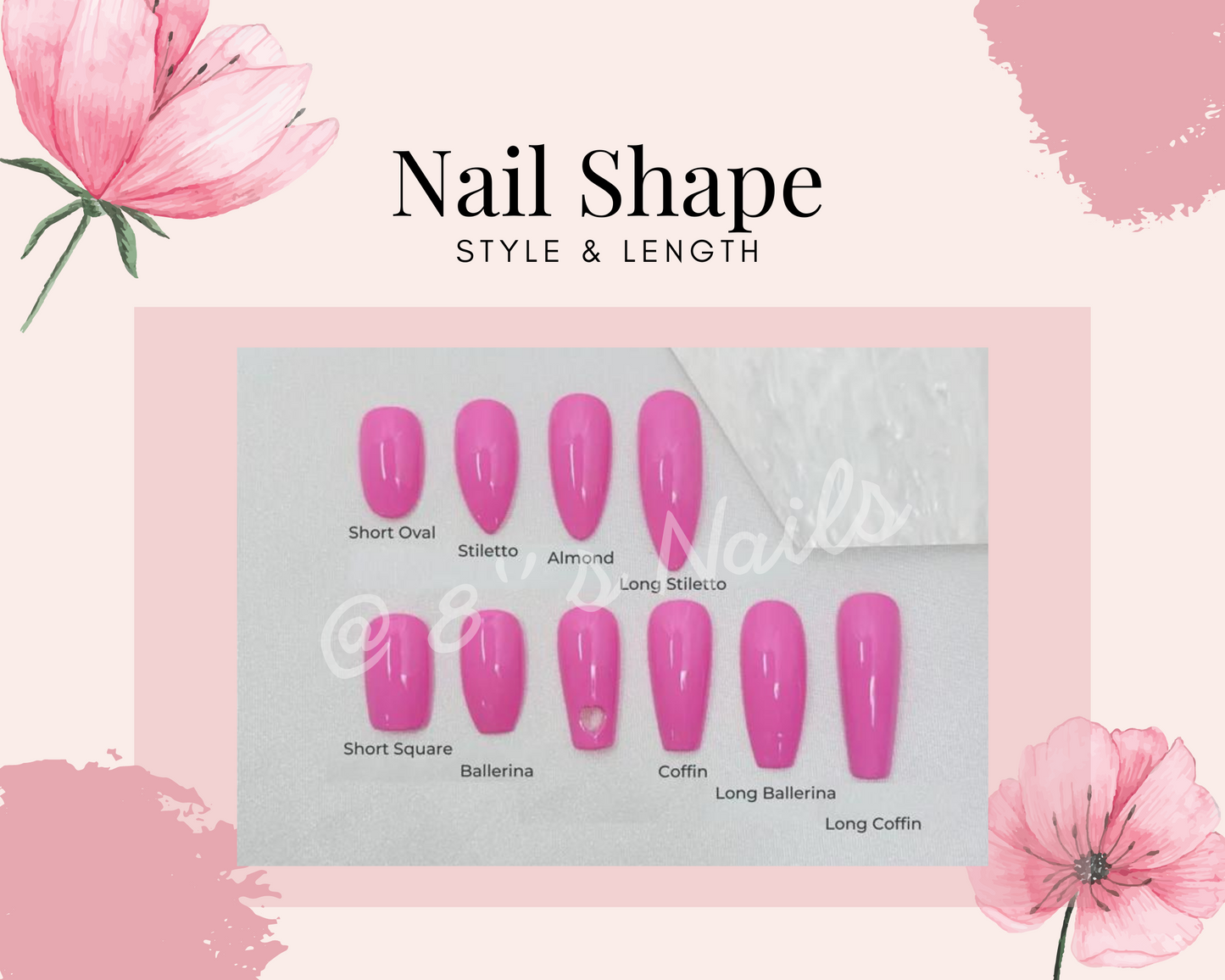 [IMPORTANT - PLEASE READ BEFORE PURCHASING]
About us

8'' s Boutique offers premium handmade press-on nails with high quality and wide selection. The press-on nails are mainly designed for easy application & removal of nails sets that can be completed in a minute. With 8'' s Boutique, you can enjoy trendy & reusable nail sets that satisfy your needs. With nail glue the nails can last from 1-3 weeks at a time, or by using adhesive tabs they can last up to a week.
Customization

All sets are customizable. Feel free to let us know if you would like a slight change in design or colors!

8'' s Boutique promotes high quality hand-painted nails. We also welcome any new ideas and customization as you like. We can always work together to create new designs or nail sets if you have something in mind. Please don't hesitate to contact us if you need any customization.
Disclaimer

Due to the nature of handmade nails, designs may vary slightly as they are all hand-painted and one of a kind. Different display monitors may slightly distort the lighting and color of the photos.


Please make sure to measure your nails accurately. We DO NOT accept cancelation for sizing/length problems. The standard sizes are just for reference. We strongly recommend measuring your nails and using the CUSTOM SIZE in order to acquire the perfect fit. If you're still unsure about your measurements, we recommend going up on the size because you can always file them down after.
Refund or exchange

Due to hygienic reasons and the nature of handmade items, we cannot take returns or allow cancellations as all sets are custom made to order and are begun immediately after we receive the order.


8'' s Boutique takes full responsibility for our production mistake. If we send you the wrong set/size/color, we would gladly issue you a refund or send you a whole new set for free. However, we do not accept cancelation for sizing/length problems. Please double check your sizing and shipping address, as we cannot change it once we made or shipped it.
❥❥❥ Thank you so much for visiting 8'' s Boutique. Please contact us if you have any questions, we will try our best to service you ❥❥❥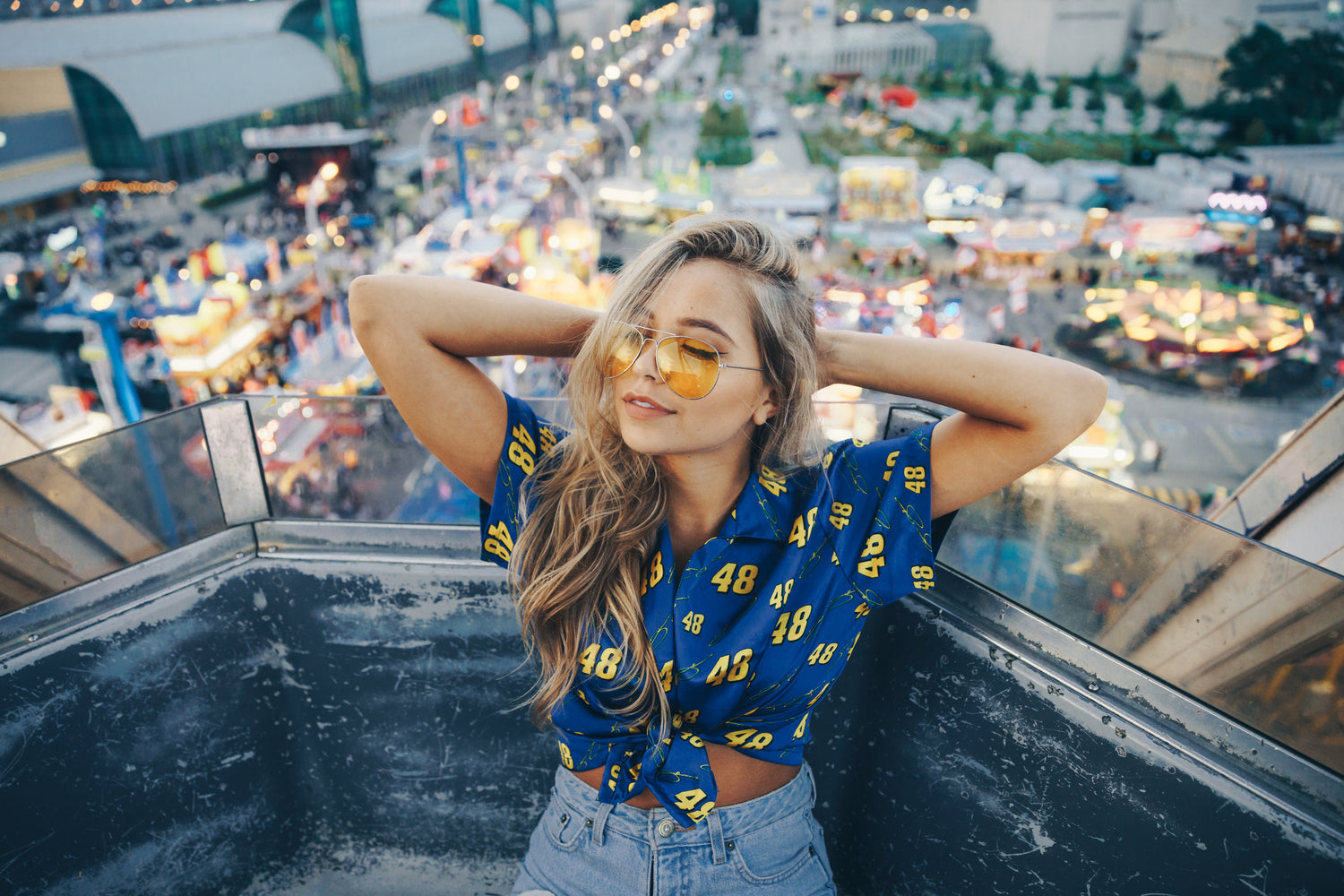 Redeem Rewards
Sign up today to get 10% off on your order and earn points per $1 spend. Don't miss out on your exclusive offers & discounts!
Sign up now
15% off on first order

Please enjoy 15% off on your first purchase with us. Offer applies on all products sitewide.

Use code: WELCOME

Free shipping on $35+

Please enjoy free shipping on orders over $35USD. Offer applies on all products sitewide. Shop with us today!